Visit Central Florida: The Beautiful Springs of DeLand
Thu, Jul 30, 2015 at 3:10PM
---
Florida is well-known for its natural beauty and its plentiful water supply. It comes as no surprise that Central Florida is one of the best places in America for springs. DeLand is located close to some beautiful springs, and they could be a good addition to anyone's vacation to DeLand
15 minutes north of DeLand is De Leon Springs State Park. The spring is the main attraction of this 625-acre park and promises a whole host of fun activities for anyone who loves the outdoors. Swimming in the spring is a popular option, and the water is a cool 73-degrees year-round, so the water is sure to leave you feeling refreshed. Snorkeling is also a favorite activity of visitors, and for those who prefer to stay dry, kayaks, canoes, and paddleboats are all available to rent. Fishing and bow fishing are both allowed in the park, and bird-watching is a major activity at De Leon Springs (it is even on the Great Florida Birding Trail).
These springs have a rich history, with its earliest occupation dating back to 8000 BC! In more modern history, Juan Ponce De León himself may have passed through the park's area with Spanish forces (though this spring is not the Fountain of Youth he was looking for). More can be learned about its history on the ecological and historical boat tours of the park. A functioning piece of history in the park is the Sugar Mill Restaurant, which is a 100-year-old replica of an 1830s sugar mill. This is a must-see spot that specializes in unique make-your-own pancakes. You can learn more about the springs at the De Leon Springs page on our website.
The famous Blue Spring can be found in the southwest of the DeLand region. Blue Spring is the centerpiece of the popular Blue Spring State Park, which is known for its manatee population and interactive water activities. As the biggest spring on the St. Johns River, Blue Spring is an important piece of Floridian geography, and the surrounding state park fully does it justice, offering a beautiful and relaxing adventure to visitors who wish to swim, dive, go boating, or observe some of the finest that the Florida outdoors have to offer.
One of Blue Spring State Park's most notable attractions is its manatee population, which is visible to visitors depending on the time of year. Manatee season runs through winter, as it begins in November and usually ends at the end of March. Fortunately, the manatee population in the St Johns River is increasing, and this is partially due to enforcement of rules against human water activities during manatee season. No swimming or diving is allowed while the manatees occupy the Blue Spring waters, but the "sea cows" make for a beautiful sight from the water's edge.
Outside of the manatee season, the waters are open to visitors who wish to swim in the 73-degree spring water. If qualified, guests can also scuba dive through underwater caves. Fishing, canoeing, boating and river tours are also all available. For more information, visit the Blue Spring's page of our website.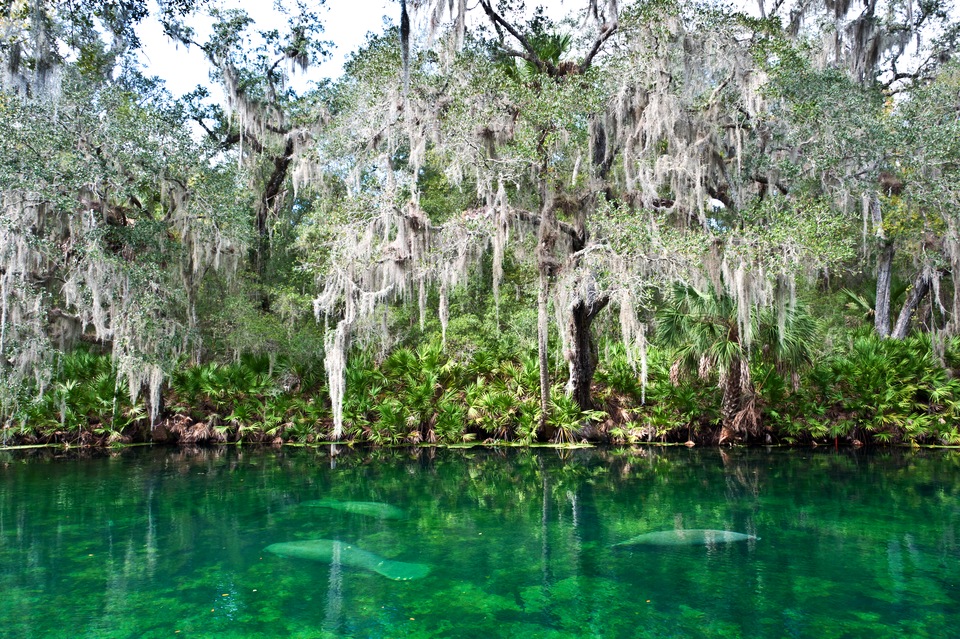 ---
Bookmark & Share
---
User Comments
Be the first to comment on this post below!