Blue Spring State Park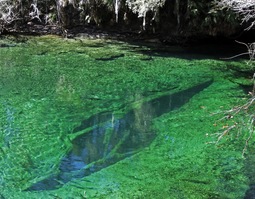 Blue Spring is the largest spring in the St. Johns River basin, making it the most significant in all of eastern Florida. An average of nearly 100 million gallons of water per day pour from a deep and spacious limestone shaft that attracts swimmers and snorkelers in the warmer months and wildlife enthusiasts in the winter. During the coldest part of the year, the spring's consistently 72 degree water draws a growing number of manatees that depend on the spring run as a refuge. At peak season, over 400 of these marvelous animals come to bask in the relatively warm waters emerging from the earth. These "gentle giants" can be seen socializing and resting from an extra-wide boardwalk and several observation decks along the .4-mile long spring run.
The view of the spring head from the two lookouts is truly stunning, surely one of the most striking sights in the entire Florida Aquatic Gems project. Even more impressive is the sight of this spring from underwater. Depending on the time of year and water conditions, snorkelers can gaze down as far as 70 feet into a superb vertical cavern lined with colossal, aquatically shaped limestone shelves. At 120 feet down, a large boulder constricts the spring flow from the aquifer, making the current so powerful that further exploration is impossible.
Blue Spring State Park offers a perfect place from which to explore the St. Johns River by canoe or kayak. Lagoons and side channels make for ideal paddling and viewing of wildlife, especially large wading birds, raptors and alligators.
Extraordinary features of Blue Spring include:
• peering down into the main spring cavern shaft while snorkeling
• outstanding canoeing and kayaking along the St. Johns River
• the hundreds of manatees that take refuge in the spring run during the winter months.
Florida Aquatic Gems Site.
Please visit video based version of the project at http://www.floridaaquaticgems.com/
Please check out a VIDEO HERE!
Links:
http://www.sjrwmd.com/springs/blue-volusia.html
http://www.floridasnaturalwonders.com/bucket-list/blue-spring-state-park/
http://bluespringalliance.org/
http://www.journaloffloridastudies.org/files/vol0103/03Sitler.pdf
Location:
2100 W. French Ave.
Orange City, FL 32763
Phone:
Website: