Hatters Have Holes To Fill in Year Five
Mon, Jul 31, 2017 at 8:50AM
---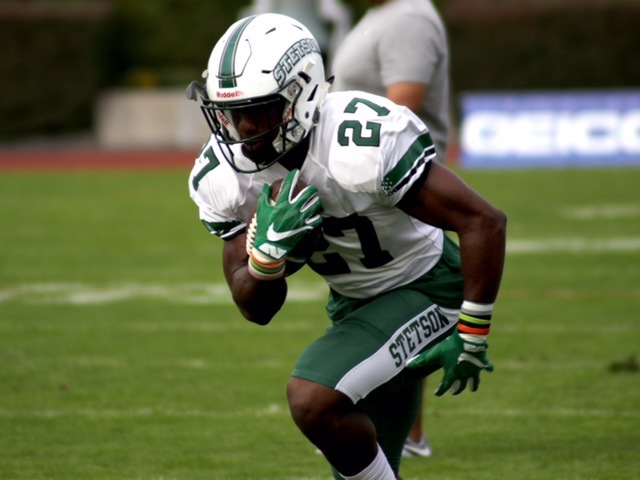 In August of 2012, 108 bright-eyed freshmen arrived on the Stetson University campus as the first football players the school had seen in more than 50 years. As the Hatters head into their fifth year of play on the gridiron, those 108 players have all moved on, with the final 13 graduating last spring.
The challenge for head coach Roger Hughes is the fill the void left by that group of veteran players, mixing returning contributors with young players just looking to make their mark on the collegiate level. Of the 110 players currently on the Hatters roster, 43 are true freshmen and 23 others redshirted in 2016, meaning more than half the team has never played in a college game.
Areas where that lack of experience will be most noticeable this fall are on the offensive side of the ball – at quarterback and on the offensive line – and with the kickers.
The three returning quarterbacks – juniors Colin McGovern and Nick Andreas and sophomore Cole Martin – have four combined starts. On the offensive line, the Hatters could have as many as three freshmen in starting roles when the season begins. None of the kickers on the roster have ever appeared in a game.
The defensive side of the ball felt the biggest sting from graduation, but also has more experience across the board. Seniors Jeff Fallabel, Shayne White and Eddie Curry lead a solid group of linemen up front. Senior linebacker Jeb Boudreaux exploded onto the scene in 2016, leading the Pioneer Football League in tackles, but is the only returner with extensive experience there.
In the secondary, senior Dre Long is working to come back from off-season knee surgery and classmates Chancellor Jackson and Eric Martin, along with juniors Conrad Fonseca and Jackie Johnson, will have to step from the shadows created by their predecessors.
Stetson coaches will not only have the challenge of getting a young team ready to play, but will also face the toughest schedule since the program restarted. In addition to the slate of eight PFL contests, the Hatters will play host to Brown and Dartmouth from the Ivy League after opening the season on the road at Sacred Heart, a scholarship program from the Northeast Conference.
About Stetson University Athletics: Stetson University's Athletics Program has a vision of developing a culture of champions athletically, academically and within the community. This vision is accomplished through a mission of recruiting and developing student-athletes, coaches and staff, creating a culture of champions, within and outside of competition. The department operates with five core values: Championship Culture, Integrity, Excellence, Pride/Tradition and Leadership. To learn more about the Vision, Mission and Core Values for Stetson Athletics, visit GoHatters.com and click on Mission Statement under the Inside Athletics tab.
---
Bookmark & Share
---
User Comments
Be the first to comment on this post below!