Spruce Creek Park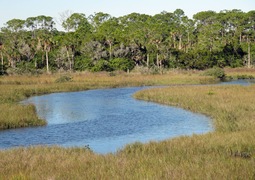 Visitors to the western Martin's Dairy portion of the multi-segmented Doris Leeper Spruce Creek Preserve can partake in the finest hiking in the entire Aquatic Gems area. Unlike on most Florida trails, hikers here actually get to walk up and down a little bit! Sand pathways lead to fabulous views overlooking lovely Spruce Creek from towering Sunset Bluff. It is an ideal location for watching glorious evening displays reflected on the creek's tannin-stained "black" waters and shimmering grass marshes. This part of the preserve is also the site of a massive shell midden, the primary feature of the Spruce Creek Mound Complex, one of over 20 archeological sites in the preserve. It was constructed over 1,000 years ago by people in what archeologists call the St. Johns culture.
The creek becomes extremely wide in the eastern portions of the preserve and includes Strickland Bay, Turnbull Bay and Rose Bay. The Volusia County park near S.R. 1 includes access for canoes and kayaks plus a trail to an observation tower overlooking a large expanse of marshlands. Bald eagles and dolphins are commonly seen here.

Extraordinary features along Spruce Creek include:
• ideal sunset viewing over a large bend in the creek atop Sunset Bluff.
• the major archeological site near the Oxbow Overlook.
• the boardwalk and observation towers in the eastern part of the preserve.
Aquatic Gems Site.
Please visit video based version of the project at http://www.floridaaquaticgems.com/
Check out VIDEO HERE!
Links:
http://www.volusia.org/services/growth-and-resource-management/environmental-management/conservation-lands/conservation-lands-map/doris-leeper-spruce-creek-preserve.stml
https://en.wikipedia.org/wiki/Spruce_Creek_Mound_Complex
Location:
6250 S Ridgewood Ave
Port Orange, FL 32127
Phone: