Smyrna Dunes Park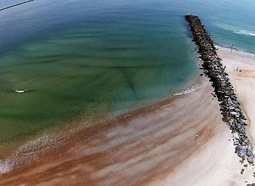 Visitors to Smyrna Dunes on the southern side of Ponce Inlet can savor nearly constant views of phenomenal celestial scenery. Shifting clouds pushed by maritime breezes offer a satisfying display on a daily basis. To get to the Atlantic waters, hikers can take boardwalks that pass through a large expanse of sand dunes which are home to a large population of gopher tortoises that can be frequently observed. Walking north along the beach, one arrives at the south jetty, a favorite spot for anglers. From there, hikers turn west along Ponce Inlet, and then finally turn to the south where sunset views are arguably the most superb in the entire Aquatic Gems area.
Extraordinary features of Smyrna Dunes include:
• frequent viewing of gopher tortoises along the boardwalk through the dunes.
• the magnificent view from the observation tower.
• glorious sunsets over the waters of Ponce Inlet and the Indian River.
Aquatic Gems Site.
Please visit video based version of the project at http://www.floridaaquaticgems.com/
Check out VIDEO HERE!
Links:
http://www.volusia.org/services/public-works/coastal-division/coastal-parks/smyrna-dunes-park.stml
Location:
2995 N Peninsula Ave
New Smyrna Beach, FL 32169
Phone: