Silver Glen Springs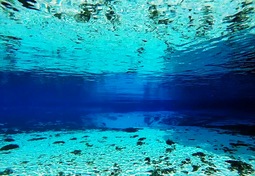 Silver Glen Springs boasts what may be the clearest water of all the local "aquatic gems." The surrounding recharge area has remained largely undeveloped within the sprawling Ocala National Forest. Turquoise waters sparkle above white sand and glimmering shells that create the "silver" in the springs' name. Remains of a major Freshwater Timucuan Indian settlement are evident in shell mounds along the north side of the main springs. In the winter, schools of saltwater fish sometimes swim up the St. John's River and crowd the relatively warm waters of the spring. Manatees also visit the springs on occasion. An average of 64 million gallons of water per day flow from two main areas, a roped off vertical cave where swimming is prohibited and a broad turquoise-colored pool were water gushes from below a limestone shelf.
The Silver Glen Springs Recreation Area also has a 1-mile long trail that takes hikers to the western shore of Lake George, the second largest lake in Florida and well worth the effort. Another short trail goes to an area of sand boils where spring water slowly bubbles up in numerous spots in the surrounding forest.
Extraordinary features of Silver Glen Springs include:
• a forest trail to the shores of Lake George, the second largest lake in Florida.
• a series of tiny springs bubbling up in the sands just a short hike from the main springs
• the truly remarkable underwater scenery around the main spring vents
Aquatic Gems Site.
Please visit video based version of the project at http://www.floridaaquaticgems.com/
Check out VIDEO HERE!
Links:
http://www.sjrwmd.com/springs/silverglen.html
http://www.fs.usda.gov/recarea/ocala/recarea/?recid=37199
Location:
5271 FL-19
Salt Springs, FL 32134
Phone: