Rock Springs Run State Reserve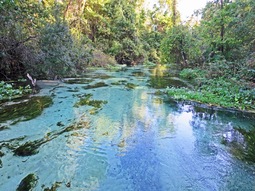 Rock Springs stands out from other Florida springs because it emerges from a 20 ft.-tall stone bluff rather than from a more typical underwater vent. This rock has an odd resemblance to a human face with two caves forming its eyes, a large rock protrusion making its nose, and a mouth out of which an average of 37 million gallons of clear water gush forth daily. Although it is most frequently used by tubers, the spring run emerging from this cavern is the most gorgeous run for snorkeling in the entire Aquatic Gems project. River otters and several species of turtles are common. After passing through a large swimming area, the stream continues for 9 miles through the Rock Springs Run State Reserve until connecting with the waters emerging from Wekiva Springs. There the two currents merge to form the Wekiva River, an important tributary of the St. Johns River. The entire area is a paradise for kayakers and those in canoes.
Extraordinary features of Rock Springs include:
• snorkeling or tubing down the clear waters of the spring run.
• viewing the rare cavern site where the spring emerges from the base of a cliff.
• nearby access to kayaking and canoeing on the gorgeous Rock Springs Run.
Aquatic Gems Site.
Please visit video based version of the project at http://www.floridaaquaticgems.com/
Check out VIDEO HERE!
Links:
http://www.sjrwmd.com/springs/rock.html
http://www.ocfl.net/cultureparks/parks.aspx?m=dtlvw&d=22#.VmClBlUrKUk
Location:
30601 County Road 433
Sorrento, FL 32776
Phone: