Ponce Preserve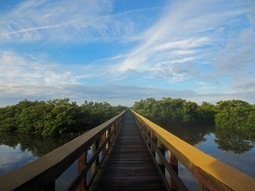 A visit to Ponce Preserve offers an amazing variety of experiences in a relatively small area. Across the street from the parking lot, a boardwalk enters a lush marsh area dominated by mangroves. The boardwalk first passes an excellent kayak/canoe ramp that offers boaters a virtual labyrinth of waterways on both sides of the Halifax River. It then continues until reaching the expansive waters of the "river," which is really an extensive estuary system. There are perfect sunset views from the dock overlooking the estuary. Visitors also commonly see dolphins and manatees there.
The highlight of Ponce Preserve is undoubtedly the Green Mound State Archaeological Site. It features an enormous shell mound just north of the parking lot. The midden currently stands about 40 ft. tall and is one of the largest in the United States. There are extremely large live oaks on two sides of the mound that are so formidable that they would be worth visiting even if the mound were not there. Several trails in Ponce Preserve offer short hikes in the hammock. Crossing A1A to the east, there is even a short stretch of natural dune vegetation leading to a car-free stretch of Atlantic beach.
Extraordinary features of Ponce Preserve include:
• the large midden itself
• the enormous live oaks on either side of the main mound
• the boardwalk through a mangrove marsh to a lookout on the Halifax River
Aquatic Gems Site.
Please visit video based version of the project at http://www.floridaaquaticgems.com/
Check out VIDEO HERE!
Location:
4400 South Atlantic
Ponce Inlet, FL 32127
Phone:
Website: