Lighthouse Point Park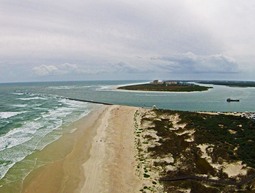 Few views are as inspirational as watching a colorful sunrise from the tip of the north jetty at Ponce Inlet as Atlantic breakers crash loudly against the rocks. Surfers take advantage of the larger than average waves on both sides of the inlet even though they know that minor shark bites are commonplace. Lighthouse Point is a realm of seabirds, fish, dolphins and sea turtles. Many of these creatures can be viewed up-close at Volusia County's nearby Marine Science Center with several engaging exhibits, including a pool for petting rays and small sharks, and rehabilitation facilities for both sea turtles and raptors. Just steps away, visitors looking for a bit of a challenge can ascend the spiral stairs of the 175 ft. tall Ponce de Leon Lighthouse for a rare bird's eye view of the expansive maze of flowing waters spread across the entire Ponce Inlet area. Apart from the inlet itself, from the top of the lighthouse one can see the Halifax River to the north, the Indian River to the south, and Spruce Creek to the west, plus innumerable creeks and channels connecting them. To the east, the Atlantic Ocean's waters extend to the horizon and over 4,000 miles beyond lie the beaches of Morocco.
Extraordinary features near Lighthouse Point include:
• the north jetty where visitors can literally walk out into the Atlantic Ocean
• climbing the Ponce de Leon lighthouse for a bird's-eye view of the coast
• the Marine Science Center for close-up viewing of sea turtles, rays and other creatures.
Aquatic Gems Site.
Please visit video based version of the project at http://www.floridaaquaticgems.com/
Check out VIDEO HERE!
Links:
http://www.volusia.org/services/public-works/coastal-division/coastal-parks/lighthouse-point-park.stml
http://www.marinesciencecenter.com/
Location:
5000 S Atlantic Ave
Ponce Inlet, FL 32127
Phone:
Website: