Lake Woodruff National Wildlife Refuge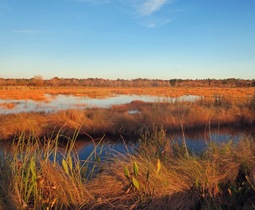 The Lake Woodruff National Wildlife Refuge protects some 22,000 acres of freshwater habitat and several significant archaeological sites. This special area contains numerous habitats, including marshes, hammocks, creeks, numerous lakes, and even uplands. There is easy walking access to the refuge at the western end of Mud Lake Road where hiking trails upon earthen dikes take visitors out into seemingly endless expanses of marsh under open skies unobstructed by trees. Over 200 species of birds, river otters, marsh rabbits, a large alligator population, bobcats and numerous snakes make use of the refuge. Several spots along the dikes are ideal for viewing sunsets over the water. The longest trail leads to a pine forest on Jones Island and then to an archaeological site next to the Spring Garden Run. While extremely rare, there have been sightings of whooping cranes in the refuge and even of a Florida panther.
Extraordinary features of the Lake Woodruff NWR include:
• the expansive marsh area that leaves open skies for sunset viewing.
• hiking access to a major midden site along Spring Garden Creek.
• extraordinary birdwatching from the Audubon tower.
Aquatic Gems Site.
Please visit video based version of the project at http://www.floridaaquaticgems.com/
Check out VIDEO HERE!
Links:
http://www.fws.gov/refuge/Lake_Woodruff/about.html
http://www2.stetson.edu/~pmay/woodruff/
Location:
2045 Mud Lake Rd
DeLeon Springs, FL 32130
Phone:
Website: