Lake Beresford Park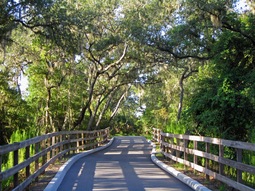 A small property on the northwest shore of Lake Beresford is the future home of the Sandra Stetson Aquatic Center and the offices of the Institute for Water and Environmental Resilience. This natural lake connects with the St. Johns River and provides an ideal training area for crew teams from around the nation and beyond.
Across the lake on its eastern shore is a Volusia County park with hiking and bicycling trails, one which continues for 3 miles to Blue Spring State Park. In the late 1700s, the area of the park formed part of a 22,000 acre plantation granted by the English to William Beresford that was worked by African slaves and remained in use until the mid-1800s. Two walking trails lead through expanses of saw palmetto and hardwoods to perfect spots on the lakeshore for watching the setting sun. The right trail is of historic interest since it once gave residents of DeLand and Orange City access to what was then called Deerfoot Landing, a stop for steam-powered paddleboats that were a vital form of transportation connecting the region to the outside world in the late 1800s when Stetson University was still in its infancy. Little evidence remains of the lake's rich past apart from a few remaining pieces of the steamship dock and of a spring water bottling plant that once operated here. The university's new endeavor here will soon add a new chapter in Lake Beresford's rich history.
Extraordinary features of Lake Beresford include:
• ideal sunset viewing along the eastern shore of the lake
• fabulous bicycling on the paved Spring to Spring Trail to Blue Spring
• the Stetson Aquatic Center
Aquatic Gems Site.
Please visit video based version of the project at http://www.floridaaquaticgems.com/
Check out VIDEO HERE!
Links:
http://www.volusia.org/services/community-services/parks-recreation-and-culture/parks-and-trails/park-facilities-and-locations/ecological-nature-parks/lake-beresford-park.stml
http://lakeberesfordpark.blogspot.com/
Location:
2100 Fatio Rd
DeLand, FL 32720
Phone:
Website: