Juniper Springs Recreation Area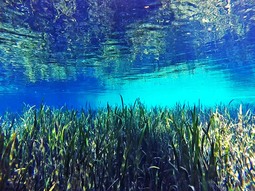 Two oasis-like springs grace the Juniper Springs Recreation Area in the vast Big Scrub of the Ocala National Forest. An average of 8 million gallons per day flows from Fern Hammock Spring while an additional 7 million gallons emerge from Juniper Spring itself. The two spring runs join to form a 10-mile long run that flows through Juniper Prairie Wilderness on its way to Lake George, an astonishingly pleasurable trip by kayak or canoe. Wildlife is abundant along the entire run and commonly seen animals include alligators, river otters, deer and a wide variety of birds. The first mile of the run is especially exquisite, with tiny springs bubbling up into its sparkling clear waters, all under the shade of semi-tropical vegetation.
Juniper Springs has two main vents that fill a large pool, the shallow areas covered in healthy eelgrass. Fern Hammock Springs, in contrast, consists of numerous tiny springs flowing up through the sand and producing slowly shifting whirling patterns. The springs emerge from beneath a grove of trees and an arched bridge that give the entire scene the look of a subtropical Japanese garden. A more peaceful setting is difficult to imagine
Extraordinary features of the Juniper Springs include:
• a canoe or kayak wilderness trip down the Juniper Springs Run
• Fern Hammock Springs, a magical realm of churning sands
• the lovely area underwater near the main vent in the swimming area
Aquatic Gems Site.
Please visit video based version of the project at http://www.floridaaquaticgems.com/
Check out VIDEO HERE!
Links:
http://www.fs.usda.gov/recarea/ocala/recarea/?recid=34064
http://www.sjrwmd.com/springs/juniper.html
Location:
26701 FL-40
Silver Springs, FL 34488
Phone:
Website: