Hontoon Island State Park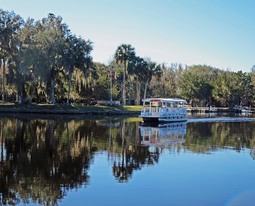 At 310 miles, the St. Johns is Florida's longest river. An ideal way to experience it is on the relatively quiet electric-powered ferry that takes visitors across it to Hontoon Island State Park. The river's "black" waters are like those of the Rio Negro in the Amazon, stained by tannins produced from decaying forest vegetation. The river basin has been home to Native Americans for thousands of years and in recent centuries attracted Spanish missionaries and luminaries such as naturalists John and William Bartram, ornithologist John James Audubon, and writer Marjorie Kinnan Rawlings.
Evidence of the pre-Columbian presence on Hontoon Island is abundant with several archeological sites around the island's perimeter. A nature trail wanders through a forest of sabal palms and leads to the largest of the shell middens which sits near the Hontoon Dead River on the park's western edge. The island's shores are lined with bald cypress and the famous "knees" of these water-loving trees. It's not difficult to imagine elves living within the oddly shaped mini-groves of cypress knees that adorn this watery realm.
Must-see attractions of Hontoon Island include:
• crossing the St. Johns River on an electric ferry.
• the large archeological site at the end of the nature trail.
• picnicking and watching boat traffic along a lazy bend in the river.
Aquatic Gems Site.
Please visit video based version of the project at http://www.floridaaquaticgems.com/
Check out VIDEO HERE!
Links:
https://www.floridastateparks.org/park/Hontoon-Island
http://www.floridasnaturalwonders.com/bucket-list/hontoon-island-state-park/
http://lsa.anthro.ufl.edu/publications/LSATechReport7.pdf
Location:
2309 River Ridge Rd
DeLand, FL 32720
Phone:
Website: