Green Springs Park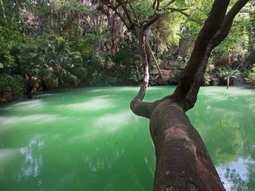 Few of the Aquatic Gems sites are as visually impactful as Green Springs. This unique natural feature, producing an average of nearly a million gallons of water per day, is the jewel of Volusia County's park system. A short walk through moist forest leads to a pool of alluring green hues, colors partially produced by high levels of sulfur, that vary slightly in accord with the seasons. Making the view even more attractive, two huge trees stretch their sturdy branches out over the pool. Since no swimming is permitted here, visitors are left to imagine how fun it would be to leap from these natural diving platforms.
Like most Florida springs, Green Springs has a millennial history that include early settlement by Native Americans that probably took advantage of the waters' medicinal qualities. In the mid-1800s, the springs were the main attraction for a hotel that had been built nearby on a large shell midden. The site was later the estate of wealthy German entrepreneur Frederick DeBary who developed the area for orange production and steamboat trade along the St. Johns River.
Extraordinary features of the Green Springs include:
• enchanting views of the remarkably green water
• easy access to two exceptional bicycle trails
• nature trails through lush vegetation
Aquatic Gems Site.
Please visit video based version of the project at http://www.floridaaquaticgems.com/
Check out VIDEO HERE!
Links:
http://www.volusia.org/services/community-services/parks-recreation-and-culture/parks-and-trails/park-facilities-and-locations/ecological-nature-parks/green-spring-park.stml
http://fl.biology.usgs.gov/OFR_2006-1107/Green_Spring/green_spring.html
http://www.sjrwmd.com/springs/green.html
Location:
994 Enterprise Osteen Rd
Deltona, FL 32725
Phone: