Downtown DeLand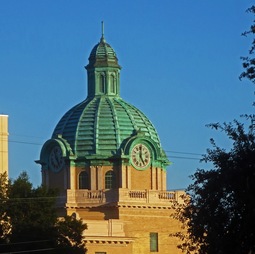 Several delightful water features grace historic downtown DeLand. Perhaps the most charming is the diminutive fountain gurgling beneath the rotunda dome of the Historic Volusia County Courthouse. The space around the fountain includes murals depicting local history and painter Jackson Walker's "Legendary Florida" collection. Doors on the second floor of the rotunda open into a stately, fully restored courtroom.
Immediately to the east of the courthouse is the Chess Park with its soothing "water wall" fountain and tree-shaded walkway. It makes a perfect place for a quiet break or for eating food taken out from the popular farmers' market each Friday across the street in Artisans' Alley. This tranquil park is part of DeLand's recent transformation into one of the most desirable places to live in Florida.
Across Indiana Ave. from the Historic Courthouse is Volusia County's Thomas C. Kelly Administration Center which includes an elongated fountain with arching jets of water vaguely reminiscent of those in Moorish Spain.
Must-see aquatic attractions in downtown DeLand include:
• the lovely public fountain area along Indiana Ave., north of the Historic Courthouse.
• the rotunda area inside the Historic Volusia County Courthouse.
• the Chess Park fountain and alleyway between Indiana and New York Avenues.
Aquatic Gems Site.
Please visit video based version of the project at http://www.floridaaquaticgems.com/
CHECK OUT VIDEO HERE!
Links:
http://www.volusia.org/services/community-services/parks-recreation-and-culture/art-and-culture/aipp/historic-courthouse.stml
http://www.volusia.org/services/community-services/parks-recreation-and-culture/art-and-culture/aipp/chess-park.stml